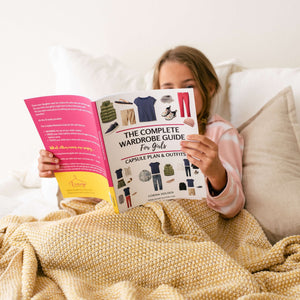 Enjoy your outfit guide in print with this beautiful hard copy.

Most office stores charge around $65 to print the 146 pages of the outfit guide in full color. 
Features
Beautiful, book-store-quality hard copy of the eBook (146 pages)
Color: Full-color
Binding: Perfect bound (quality glue binding)
Cover: Soft cover
Dimensions: 8.5''x11'' 
The Complete Wardrobe Guide for Girls
I really love having the hard copy for my girls. It makes it easier for them to look through and understand what works. I don't have to pick out so many outfits!
Excellent print copy
My order arrived in Canada in less than 2 weeks and the print quality of the Guide is excellent.