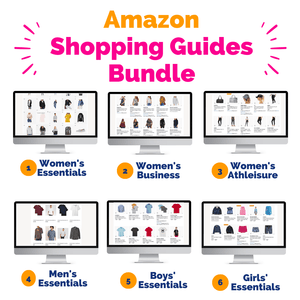 Wish you had a shopping catalog of recommended links to essentials for your whole family?
This shopping guide bundle contains MULTIPLE Amazon recommended links to each of our recommended essentials for women's essentials, women's business, women's athleisure, men's essentials, boy's essentials, and girl's essentials.
Includes the following Amazon Shopping Guides:
Women's Essentials (also sold individually here)

Women's Business Casual

Women's Athleisure

Men's Essentials, Athleisure, & Business

Boys' Essentials

Girls' Essentials
Features: 
Over 700 links total!
Every link is carefully selected for versatility, quality, and excellent reviews.
Enjoy free shipping and returns as an Amazon Prime member to easily find replacements or new items for your wardrobe.
Includes regular, plus size, AND maternity options in the women's lists and regular, plus size in the men's list.

We label the links with what clothing piece it covers from our capsule wardrobe plans, such as "Print Tee" and "Dressy Blouse".
Why Amazon?
They offer great quality pieces (if you know how to search--and in this product, we've done all of that for you!), ranging from Amazon's own brands to other well-known brands like Calvin Klein, Carters, and Levi's.
Through Prime you get free shipping and free returns!
The Amazon and many of the well-known brands offer "try before you buy" which lets you order up to 8 items to try at home without paying a single cent! You then purchase what you want to keep.
All your clothing needs can be found in one place, meaning you can fill one cart instead of hopping websites or going to a bunch of stores in person to find what you need.
NOTE:
This guide is only useful for U.S. residents as most listings only ship to the U.S.
This guide is already included as a bonus inside each of the corresponding Style Guides. If you own all of those you don't need to purchase this separately.
Example from the Women's Essentials List:
Great ideas for capsule
This is a great cheat sheet for shopping an easy go to capsule closet
It's like having my own personal shopper & stylist!
The Amazon Shopping Guides Bundle is a must have! With so many options available on Amazon, where do you even begin? This guide narrows down the options and allows me to focus on what truly works for me! Such an amazing resource you really can't do without.
Great product!
I love this product. It has over 700 links to different pieces of clothing!!
Easy, like a personal shopper
So many cute clothes for the entire family from dressy to casual. easy to click the link and pick out my size. The clothes I looked at all had great reviews, so I know it is true to the picture. Also I love that these pieces are affordable and not super-pricey. If I could change one thing, it would be a special link for eco-conscious/organic/natural fibers. I try to buy those kinds of clothes whenever I can, but the majority of my closet is traditional clothing. So I am not sure how much of a demand other users of your platform have for those other fabrics. But it is a feature I would love if it was added at a later time. But that aside, these were economical, comprehensive, and great fashion choices. You can easily point, click, shop for your whole family from this guide and one online site. So so so easy and efficient.