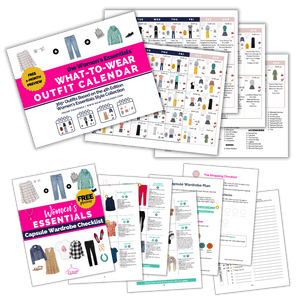 Note: This is a FREE preview of the 12-Month What to Wear Outfit Calendar and Women's Essentials Style Guide. Enjoy!
Do you wish you knew how to dress a little more like a chic mom without spending a bunch of money on new clothes all the time?
Good news... ever since starting a blog to figure out how to dress better AS A MOM OF FOUR LITTLES I've discovered an easy (and budget-friendly) solution!
And I put it into a pretty printable plan for all of us moms to benefit.
You can quickly refresh your wardrobe and discover chic, comfy outfits to wear every day with this wardrobe checklist and calendar of outfit ideas!
Feeling like a frumpy, unstylish mom is a thing of the past! If I could refresh my boring, outdated style...YOU CAN TOO!
Download the FREE wardrobe plan + outfits calendar preview today to get started!
You'll get:
An example month from the outfits calendar printable to get fresh inspiration on what to wear each day. 

Wardrobe checklist to help refresh your mom wardrobe starting with what you already own.
Great way to have low hassle mornings!
This is a great tool to look put together every morning without the hassle of figuring out what to wear! Great for full time Moms, especially when you're fighting depression.
Truly surprised!
I ordered the free preview and I have to admit I'm truly surprised at the depth of information and obvious research that has gone into creating this calendar. Wow! It's wonderful! I missed my chance to purchase at the discounted price. Between work and all I wanted more time to give the preview a good read. But I do plan to purchase the full calendar.
Great
So many outfit ideas for Spring! Use some pieces that you already have in your closet to make sooooo many more outfits than you have currently been wearing! So great for moms on a budget!
Great resource for busy folks!
So looking forward to embracing this tool...I can't wait to be able to pick my outfits quickly!
A new look at your wardrobe
Very useful and a ton of great ideas. I dont have to figure out what to wear each day. Helped me build a functional closet.
Awesome calendar
Love it and it is very helpful. I am working on using a capsule wardrobe or at least downsizing my wardrobe and being able to use all the clothes in my closet I have or get rid of them if I am not going to wear them and this is helping with that